Coliseums of unison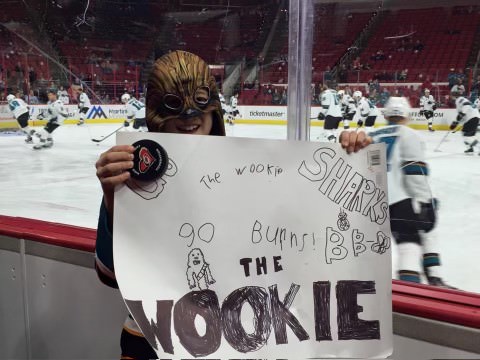 Stadiums aren't just giant constructs of metal. They're magnificent coliseums that hold many people who gather to watch something in perfect unison and have a great time.  This may be the fans, the chants, it might even be a song they play. Regardless of all of that, they are unique.
For some, it is about singing songs at the games. Many people love to sing Neil Diamond's "Sweet Caroline," but not many people know where this tradition came from. 
According to Carolyn Kruse from 105.7 WROR, in 1997, one of the Boston Red Sox employees who worked at Fenway Park had a baby and she named her Caroline. They played the song Sweet Caroline in honor of the new baby, and everyone in the ballpark started singing it. 
Ever since then, it has been played not just at Fenway Park, but at stadiums all across the world. 
Now as much as we love our "Sweet Caroline," many people love the pop culture song "Jump Around" by House Of Pain. This song is popular at many stadiums, but it is most popular and played regularly at UNC basketball games. 
According to the American football database, this became a tradition in 2004 as the UNC men's basketball team began using the song as it was a favorite hype song for guard Rashad McCants and his teammates. 
When you talk about stadiums, you have to think of not just today's modern dome stadium, but also the stadiums of the past as well.
Softball coach Debra Clark here at Fuquay Varina High School remembers how she used to go to the old Veterans Stadium in Philadelphia, Pennsylvania to see the Philadelphia Phillies play.
 "I remember when I saw Steve Carlton's 3,000th strikeout at the Old Vets Stadium. It was really cool, I got a certificate and remember being a little kid thinking this was incredible," she said.
As fun as going to the stadium to watch the event is, baseball coach Andrew McClannon loves the food at the Durham Bulls Athletic Park. 
"The Angus Barn cheesesteaks are something man; it's a great cheesesteak. Plus the Two Roosters ice cream stand in the right field is great. I love their ice cream," he said.
All of these things are great but the one most important thing about a stadium is the experience and memories you gain from it.
New assistant principal Zack Thomas recalled the "Bottle-Gate game." In a game in 2001, The Cleveland Browns were driving down the field to win the game. A very questionable flag was called and moved the Browns back. The fans at FirstEnergy Field went nuts and started to throw bottles at the referees on the field. They stopped the game for about 30 minutes to get the Cleveland fans out of the stadium and clean off the field in order to continue the game, which the Browns eventually lost. 
Since that game, FirstEnergy Field has banned metal beer bottles and only uses cups now to prevent another "Bottle-Gate."
Sports gather people together. We put our differences aside as we relax and watch these great athletes show off their talents. We can't do that without these great stadiums. These aren't just buildings. These are coliseums for gladiators, and we are the people who are here to just enjoy it.