Iconic performance, pregnancy reveal, and brand promotion for Rihanna
The annual NFL Super Bowl is a great way to spend time with your loved ones. Whether you're watching for the actual game, the commercials, or the halftime performance, there's something for everyone to enjoy. If you're less into sports, you likely look forward to the halftime show more than anything. This year, the performance was definitely the most iconic part of the entire event.
As soon as it was announced that Rihanna would be performing, many people knew immediately that the show would be amazing. However, what we didn't know was that Rihanna would be performing while pregnant with her second child. Even her own father wasn't aware of the pregnancy until after the show, according to the Daily Mail.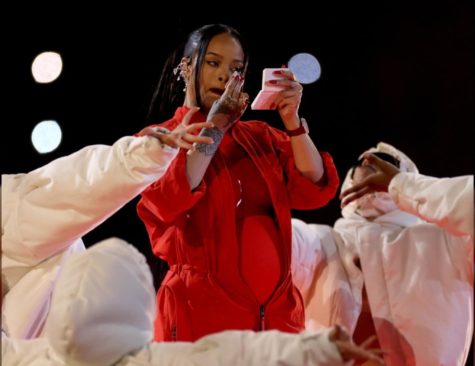 Many viewers were surprised by the Barbadian singer's outfit choice, since she tends to wear more revealing outfits, even during her first pregnancy. This time, however, Rihanna was dressed head to toe in an all-red ensemble. Many people, including myself, were expecting some kind of outfit reveal, but the reveal never came. What did happen was a promotion for her cosmetics brand, Fenty Beauty, live on stage. Two of her backup dancers, who were dressed in all white, handed her a compact of her own setting powder. Afterward, she quickly applied it to her nose before seamlessly transitioning into her hit song "All of the Lights," and continuing the performance as if nothing had happened.
Whether you enjoyed the halftime show or not, it's safe to say that this year's performance was very iconic for several reasons. Rihanna not only gave us an amazing show but also announced a pregnancy and promoted her brand, all in less than 15 minutes.