Rivalry Renewed: UNC heads down the road to take on Duke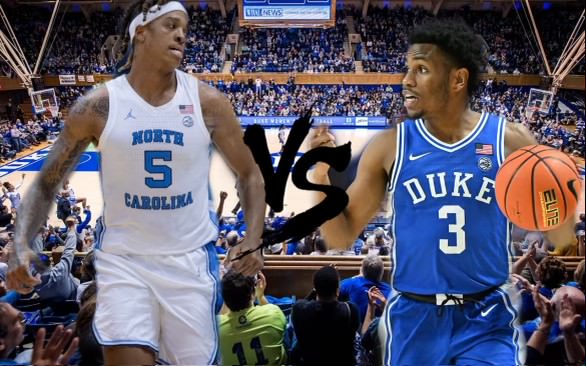 ESPN's College Gameday is coming to Durham, North Carolina for this year's rendition of the Tobacco Road Rivalry, which will be renewed on Saturday as the Duke Blue Devils take on the North Carolina Tar Heels at Cameron Indoor Stadium. Both squads have underachieved after their respective Final Four runs last year as they are both unranked heading into this matchup.
For just the third time since 2000, the Duke Blue Devils and North Carolina Tar Heels will be squaring off without either one of them having a ranking next to their name. Both of those previous meetings were actually in the 2020-21 season.
It's been a fall from grace, to say the least for the Tar Heels who began the season ranked at No. 1 in the AP poll. North Carolina currently sits with a record of 15-6 (7-3 in conference) and had a slow start out of the gate with losses coming to teams like Virginia Tech, Iowa State, Virginia, and Pittsburgh. Their struggles have resulted in them being ranked only once within the last nine weeks. 
There is, however, hope for Tar Heels fans, as they've managed to win four straight including a controversial win over their in-state rivals, the NC State Wolfpack. Their tune-up game will be a tall task against a Pitt team that is near the top of the ACC rankings and defeated them in Pittsburgh earlier in the season. If Carolina can continue their winning ways and use their experience in big games to their advantage, they should be able to have the upper hand on the Blue Devils.
Duke has underachieved thus far in Jon Scheyer's first season as head coach, boasting a record of 16-6 (7-4 in conference). Inconsistency has been the theme of the season for the Blue Devils as they've looked like conference contenders at times while looking like bottom feeders at others. Duke started the year with a No. 7 ranking in the AP poll but has now gone unranked for the third consecutive week. Losses to Virginia Tech and NC State have plummeted their resume which has led to their lack of a ranking. The good news for Blue Devil fans is that their squad has looked good in their last two games. After doubling up Georgia Tech's score on Jan. 28 with an 86-43 win, they were able to pull out a close win against Wake Forest on Tuesday night. If Duke continues to get big contributions from standout players like Jeremy Roach and Kyle Filipowski they should find success on Saturday night.
The key to this game will be all about who shows up. Will the Duke team that beat Pitt show up? Or will the team that blew it against Virginia Tech make a sudden reappearance? The same can be said for Tar Heels. Will we see the Carolina that beat the Wolfpack by 11, or will we see the team that lost back-to-back games against Indiana and Virginia Tech? 
The rivalry will be renewed on Saturday night at Cameron Indoor Stadium in Durham, NC. Coverage will begin at 6:30 on ESPN.