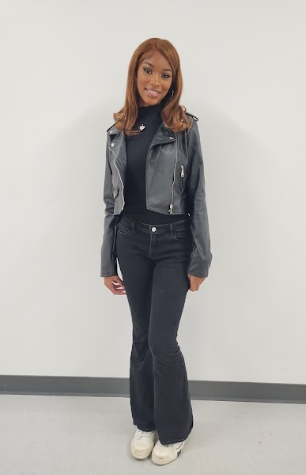 Many students don't think a lot about their daily outfits. Nowadays it's common to see several walking the hallways with pajamas on, even when it's not pajama day! 
For some others, however, school is a way to express their style, culture, and opinions to their peers. These students deserve to be recognized for the amount of thought and effort that goes into their outfits every day, as well as the confidence it takes to wear something different and stand out.
This month, senior Shae Bass earned the title of Best Dressed. In a poll taken by Roaring Bengals, the majority of participants nominated Bass. Many also noted her interesting hair, makeup, and nail choices in addition to her outfit.
Bass says her personality inspires her fashion choices.
"I like to be creative. I'm a confident person, so I think I like to stand out. I like that you can express your personality through fashion. I also wear makeup and do it as a form of art as well.
Pretty Little Things, Carhartt, H&M, Skims, and Gallery Department are all different places Bass gets her clothing from. In addition to stores, Bass thrifts a lot of her clothing. 
"I like thrifting because I feel like you can find a lot of unique things," she said.
Bass also shared some advice to those who might be afraid to wear what they want to.
"Socially, we think other people are looking at us. We feel like they see the insecurities that we see about ourselves, but in reality, nobody really cares. It makes me feel like I can just express myself without being judged because even if someone is judging, it doesn't really matter, because you're the one wearing the outfit," said Bass.