Can the Bengals turn it around
As the first couple weeks of school roll around that means one thing: another Fuquay Varina High School football season is underway. Although the season hasn't started the way the Bengals had hoped, there are some signs that could potentially signal a turn in the right direction.
The season began with back-to-back heartbreaking losses at home against Middle Creek and Apex. The Middle Creek game was a high-scoring, back-and-forth, affair that finished with a final score of 36-35. A touchdown and successful two-point conversion with just over a minute left from Middle Creek was the final blow. In the game against Apex, the Bengals put up another great fight that saw them overcome a 20-9 deficit in the second half to take the lead, but it was yet another touchdown by the opponent in the final minutes that saw their demise. The third loss against Holly Springs sees the Bengals currently sitting at a record of 0-3.
The Bengals will attempt to restart with a clean slate as conference play officially begins against Clayton on Friday, September 16. The Bengals will likely need to finish as the first or second seed in the conference if they want to qualify for the playoffs.
"We beat ourselves in those first couple games, but we can't let the past affect the rest of the season," said senior linebacker Jace Gaddy. 
The Bengals' defense has gradually improved through the first three games of the season. After giving up 36 points in the first game against Middle Creek, the Bengals then surrendered 26 against Apex and only 14 in the third game against Holly Springs.
A junior defensive end for the Bengals, Gates Hinton, believes the defense is taking a step in the right direction. "The defense struggled in the first game, but over the last two weeks we've really come together as a team and started to stop these offensive threats," explained Hinton. 
While the defense has been improving over the first few games, the offense has, unfortunately, taken a step back with a fairly sizable decrease in points scored after the Middle Creek game. Senior running back Jaquez Cureton leads the team in yards from scrimmage and touchdowns. Year two starting quarterback Luke Toscano is the one taking snaps under center for the Bengals offense this year and he has added a couple of passing/rushing touchdowns of his own.
There are clearly some reasons to believe in the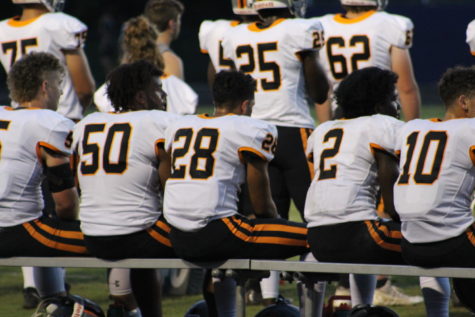 second half of the season turnaround and the stats do show it, Both sides of the ball will just need to click at the same time.
"The season didn't start out the way we had hoped, but we don't feel that our record reflects us as a team. We plan to turn that around in conference play," said Toscano.