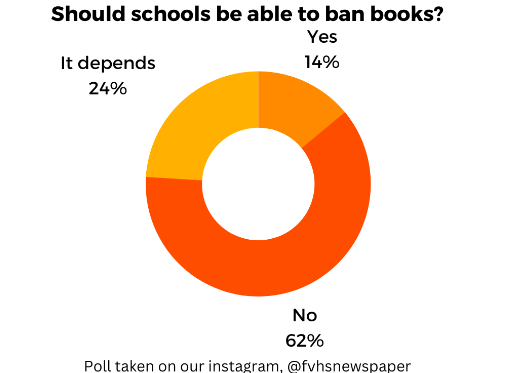 Throughout history, various books have been banned and censored from schools. This includes popular books such as "The Hate U Give," and the Harry Potter series. Classics such as "To Kill A Mockingbird" and "A Handmaid's" Tale were even banned, both of which are actively taught in schools today. 
Currently, material not allowed in high school libraries include graphic, sexual, or violent content. It's understandable why parents wouldn't want children to read them, especially for younger children. Books that have content that isn't suitable for those under 18 shouldn't be allowed in schools anyway. But what exactly is suitable? Does that include depictions of violence or strong language? What about books that explore complex and controversial topics such as gender identity and race?
In high school, many kids start to explore and learn more about themselves and the world. It's the last stage of their lives before getting a taste of adulthood. Would banning books really be necessary, or even right? Teens can make their own choices, and that includes what they want to read. They should be able to have the resources to learn and explore topics they want to.
The First Amendment of the US Constitution gives us the right to free speech and prevents the censorship of people's opinions. In learning environments like schools, conflicting opinions make it tricky to draw the line. Someone may disagree with a book's content, but that doesn't mean they should ban everyone from reading it. 
Allison McAuley, FVHS librarian, said, "It's really harmful when we see books being taken off the shelf or being challenged because they may not represent a point of view that is favorable to one person. The great thing about books is you can read them, but you can also close them if you don't like them."
This week, Fuquay-Varina High School's library celebrates National Banned Book Week, which spotlights books that have been banned for various reasons. This year's theme is "Let Freedom Read."
"Banned Books Week is a chance for us to expose the dangers of censorship. There's a fundamental right to read in an American, free society. We need to work to protect that right," McAuley said.