Bringing your Super Bowl party together with snacks
Whether you're watching for the love of the game, the halftime show, or just to hang out with friends, the Super Bowl is for everyone, and the snacks tie us all together. Feb. 13 marks the 57th Super Bowl, and the Kansas City Chiefs will be playing against the Philadelphia Eagles. With so many differing reasons to watch the Super Bowl, let's take a look at the food that brings all the fans together. 
CBS NFL has published their take on the matter, with the top ten Super Bowl foods as: wings, pizza, chips and dip, nachos, grilled meat, brownies, pigs in a blanket, buffalo chicken dip, baked ziti, and sugar sausages.
However, FVHS students have their own take on the best mid-game munchies.
Senior Mackenzie Knapp says, "My favorite Super Bowl snack is chicken wings, because they taste good and they are just a Super Bowl staple."
Similarly, seniors Rachel Young and Ryan Seaman have fallen in love with buffalo chicken dip. 
"That's what my family has always had during the super bowl," Young said.
Seaman has a different reason for loving the dish. 
"It has the proper amount of sugar, spice, and everything nice. It fills your mouth with the most angelic and delectable palette of flavors all in one bite," said Seaman.
Senior Faith Perry prefers chips and salsa, for the same nostalgia
"It has been something my family has always had since I was a kid during the Super Bowl," said Perry.
On the other side of the chip lovers, senior Bella Lane prefers chips and queso.
"I absolutely love queso, and the two pair perfectly together. I can snack on them the whole game and never get tired of it," said Lane.
Football fanatic senior, Cooper Adams, has a Super Bowl snack that most people might have forgotten.
"The succulent juices inside a hamburger are absolutely fantastic when pristinely cooked, causing a burst of flavors," said Adams.
Whatever your purpose for watching the game, whether for the love of football, to see Rihanna rock the stage at halftime, or to just be around friends and loved ones, the snacks are what bring the whole party together. So, as the Chiefs and the Eagles fight for Superbowl 57, what will you be munching on?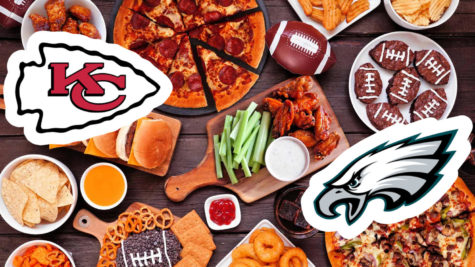 Sorry, there was an error loading this poll.