Men's Bengal basketball season comes to a close
Fuquay's men's basketball team finished the season with a 14-13 record. The Bengals were 9-5 in conference play and finished third only below Cleveland and Garner.
The team was composed of 12 seniors/juniors and one sophomore, creating a very seasoned team coming into the season with new head coach Randy Barrow.
The Bengals started their first game off at home playing old time rival Holly Springs. Being the first game ever at the new building, hype around the game was immense. The game came down to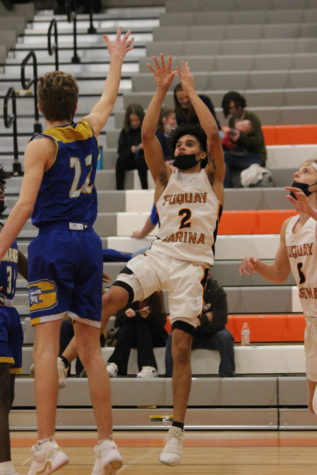 the wire with the score at 50-49,  and the Bengals trailing with 1.4 seconds left to go. Junior Gua
rd Jake Hart inbounded the ball under their own basket, a bounce passed to senior forward Dylan Smith for the contested layup to win the game. The Orange Crush stormed the court to congratulate the team for their crazy win and first win on the new home court.
Smith, coming into his last year with a huge first win of the season said, "The game winner against Holly Springs was a crazy experience with it being the first game back at this school. It was definitely one of my best memories in high school and a great way to start off the season."
"I've played on a lot of teams, but this one is special to me," he continued. "We had a lot of chemistry and really enjoyed practices and games with each other."
After starting the season at 1-0, the Bengals played the next 12 games at a record of 6-6 and were just above .500 heading into the halfway point of the season. "That first game really set the tone for the rest of the season," said Barrow. "We didn't necessarily have a lot of experience, but this team battled through injuries and sickness to make a run for the conference championship."
The team fell in the conference championship to Cleveland by four points and then lost in the first round of playoffs against undefeated New Hanover.
Fuquays senior guard Damian Booth was the team's most consistent scorer throughout the season averaging 12.8 PPG. "It's been an amazing experience, and the camaraderie we have as a team is unmatched," Booth stated. "I have learned that hard work pays off and you can do anything when you play together as a team."
Booth hopes to carry the friendships he has made with his teammates into the future and into his next chapter of his career.
While the ending of this season was a heartbreaker, the men's basketball team has more than enough to be proud of, moving forward into the coming years in this new chapter at FVHS. "This group of guys enjoyed the game and being together," said Barrow, "and we're looking forward to building on what we've established and accomplished this season."