More than a teacher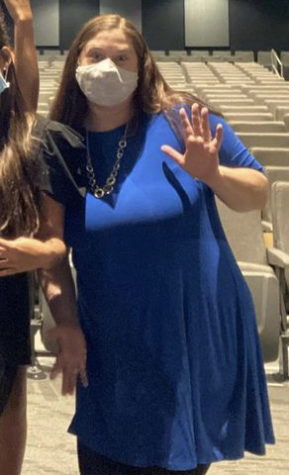 What makes a great teacher? Well, according to FVHS Spanish teacher Shelby Cole, it's clear. "Having a sense of humor is important . . . having compassion . . . and knowing your content is key. You need to be able to know it so you can teach it to every student and help them understand it fully," Cole said.
Cole's main goal of teaching is to impact the lives of students and help them learn to the best of their ability. "She's the best teacher ever because she listened to us,"  FVHS junior, Jade Silveria, said, "One time she gave me a hug."
Cole's teaching methods are helpful to every student no matter where they are academically. "You need to be able to explain things in multiple ways, so all ways work for everybody, so you can teach to everyone," Cole explained. 
Whether you take Cole's class to learn Spanish, acquire your needed language credits to graduate, or just fill a hole in your schedule, she'll leave a lasting impression on your life. Cole not only teaches the content in a way you'll understand, but she listens to her students' voices. "Mrs. Cole would always let us talk about our lives in her class and hang out," Silveira stated.
Cole is not only dedicated to the lives of her students but all of the students at FVHS. She is the co-advisor of National Honor Society, where she works to help students achieve academic excellence. "It's hard work, but it's worth it," Cole said.
Although Cole is one of FVHS's finest teachers, she has had doubts about her career before. "The teachers call it the seven year itch. After about seven or eight years of teaching, I had had it. I thought to myself, 'These kids are too crazy, and I can't do this anymore,'" she explained when she contemplated giving up. "I said I would finish out the school year, and if things were not better, then I'd quit."
Even though things were hard for Cole, she remembered why she stayed in this career path. "Whenever I see my past students or hear stories about them, it makes me realize why I became a teacher," Cole reminisced. "I'll look at them and go, `You turned out so well, just like I knew you would.'" 
There is no doubt on whether Cole was destined to be a teacher. Her compassion, spunk, and hard work ethic are what makes her an excellent role model for all students.
Today, she continues to carry around a piece of advice she was given."Be reflective and mindful about how you do things and why because it's easy to just do what you've always done," she said. "I have gotten the advice to ask yourself, 'Why do you want to do it this way? Maybe there's another way to do it. Always do something with a purpose.'"