Middle Creek High School Theater Department presents Big Fish the Musical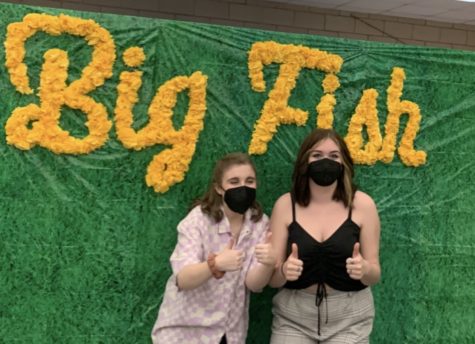 The arts have always been a place where people can come and be themselves. Theater is something that brings people and communities together. On that note, it's beneficial to support local arts programs because many of them are criminally under funded and cared about in schools.
I had the pleasure of attending the opening night of Middle Creek High School's production of Big Fish and had such a great time. You can tell these students are all so passionate about what they're doing and have lots of talent, too. Shoutout to AJ King, student at MCHS, who played Edward Bloom. The center of the story revolves around this character, and King's acting will make you laugh, cry, and overall fall in love with the character. However, the entire cast put on a stellar performance; they didn't miss a beat and embodied each of their character's perfectly.
Not only is the acting beautiful, it is also a treat for the eyes. Costuming killed it. From the ragged witch costumes to the refined USO Singers, it was spot on. The set was gorgeous, my personal favorite being the Daffodil sequence; you could tell the crew paid strong attention to every detail. Along with the choreography and lighting design, it was visually stunning.
After the show, I snagged an interview with a member of the cast. Madeline Zarrett, who is a junior, has been in six MCHS shows thus far and is a featured ensemble member in Big Fish. "My favorite musical number has to be Be the Hero or What's Next, " Zarrett stated. 
I have to agree that those numbers are spectacular.
"People should come see Big Fish because it is a heartwarming and fun story with great music, and we worked hard on it; it's a great way to support local school theater's during the pandemic," Zarrett explained. 
Arts programs being underfunded is a common theme when asking people why we should support local programs. Elliot Ockert is a sophomore at Green Level High School and also attended the show. "Specifically in school programs, it can make it very difficult for some people to experience art as they wish," said Ockert. "We, as artists, understand this and want to help anyway we can." 
Ockert goes on to add, "Support is very meaningful to people. Being able to see your family and friends sit in the audience and cheer on your every move, no matter how big or small; it's invigorating."
Zarrett wholeheartedly agrees. "It's important to support local arts because a lot of us don't have tons of funding or a popular following audience like bigger theaters, so giving us the support gives us the motivation to keep creating," she added.
Personally, I believe arts should support arts because we all have such a deep love for this medium, so why shouldn't we share it, come together and really be there for each other? As a member of FVHS's theater program, I know that most of us started doing theater because we loved watching it. Getting to witness other artists doing what they love and something that you share a passion for is amazing. So next time a local show pops up, go support, and trust me when I say, it means more to the cast and crew than you'll ever know