FVHS students make their mark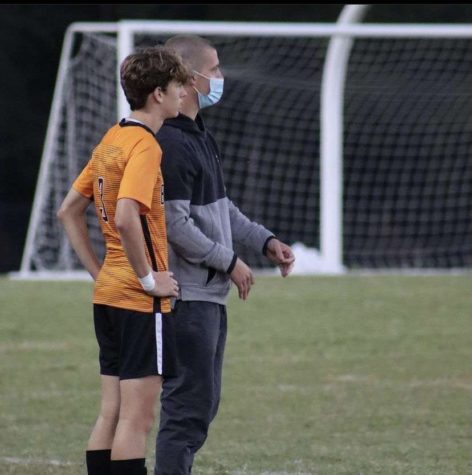 Evan Kraemer
School varsity teams tend to be made up of juniors and seniors – the larger, more developed teens. Every once in a while, you may hear about a sophomore sneaking onto varsity, and it's an outstanding accomplishment each time, but what about a freshman?  Fifteen-year-old FVHS student Evan Kraemer broke that stereotype during the 2021-2022 school year, playing on the varsity soccer team in his very first year of high school.
The experience of being a freshman on the varsity team did a lot for Kraemer this past season. He knew he had to work hard to secure his position. Kraemer believes he learned a great deal from the experience, specifically because of his teammates.
"Many of them have taught me so much and challenged me to become a better player," Kraemer stated.
Even though he is a 15-year-old playing with 17/18-year-olds, it's obvious that Kraemer knows what he is doing. He is like a majority of athletes carrying a strong tie to their sport. Soccer really means something more to him than just a fun past time. Kramer uses his sport as a way to boost confidence and relieve stress. 
"It just lets me be free from my problems," he said of soccer. 
Soccer, ironically, has ended up being a bit of a problem for Kraemer. As a cause for multiple injuries throughout his career, it has not been completely free of problems. Kraemer has pulled his left hamstring three times and his right hamstring once. Each injury almost caused him to quit his sport, but he pulled through each time.
"I wanted to give up on soccer so many times throughout my injuries, but I didn't. I'm so glad I didn't," Kraemer explained. 
That determined spirit makes it no surprise that Kraemer works incredibly hard on the field. He typically practices every day and has worked hard for his spot on the varsity team. 
"I had been training all summer for it," Kraemer proclaimed. 
Considering that he is the youngest member of the team, most people would consider Kraemer to be an underdog. However, he really doesn't see it this way.
"You have to be confident and a skilled player to be able to play with kids who are older than you," Kraemer shared. 
This confidence has led this talented athlete to have big ambitions. Looking towards the near future, Kraemer hopes to play college soccer. But his big end goal? 
"I want people to remember me for being one of the best soccer players in the state," he said.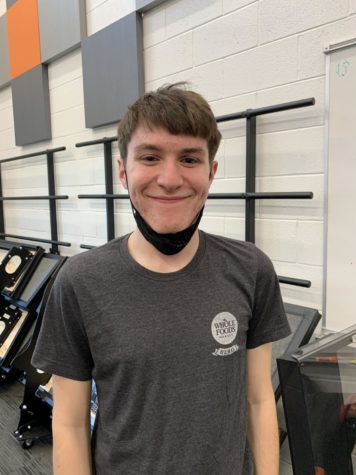 Noah Bashaw
Identifiable by his smiling face and knee-length shorts he's been rocking for years, FVHS sophomore Noah Bashaw is known and loved by many. As an active member in the choir and theater programs at the school, Bashaw has made his mark in Bengal territory. However, one of the most interesting things about him is the fancy crew-length socks he has showcased almost every day since 7th grade. 
Bashaw can be spotted daily wearing one of about 42 pairs of unique socks and repping them with pride. Foxes, food, dinosaurs, you name it, and he's probably got it on a pair of socks. Bashaw got his first pair in middle school as a Christmas gift, and he has not looked back since.
"I was really excited, and I wore them, and I was like 'Wow . . . I want to continue wearing these', so I bought more," Bashaw triumphantly stated. 
While his socks are neat and require some serious confidence to pull off, Bashaw started wearing them out of insecurity. He said it seems silly now, but he used to be really insecure about his legs. The long socks became an easy way for him to cover them up. 
"Wearing those long socks helped me cope with that insecurity," Bashaw explained.
Having grown in confidence over the years, Bashaw has new, selfless reasoning for his continuous use of neat socks. They have become a way of expression for him, and he likes that he can put a smile on people's faces by doing something as simple as picking a fun pair of socks.
"Once I saw people were liking my socks, I was like 'Hey, people are liking these and it gives them a good little 'hey, wow! Those are cool socks,'" Bashaw stated.
Little things that inspire happiness and kindness are important to Bashaw, which would be the reason he is so outwardly nice to everyone. One conversation with him and your day is immediately improved. He has a knack for putting a smile on people's faces and a genuine passion for it, too.    
"I don't really see a reason to be rude or mean to anyone," Bashaw said.
That is something Bashaw truly seems to live by, and it is obvious to see. Being nice to everyone he meets is nothing special to this one-of-a-kind kid. FVHS junior Anna-Grace Medlin has been in the theater with Noah. "He is the sweetest person I have ever met. He's very encouraging, he'll always say hi to you no matter who you are, and he is always smiling," Medlin said.
Bashaw really seems to live by his rule of kindness, which makes him someone you will not easily forget. From his genuine raw positivity to his fancy socks that can't be missed, he is one to leave a lasting impression on everyone whose lives he stumbles into. 
"I always just try to make one person's day good. Even if they don't treat me the same, I still want to believe that anyone can change," he said.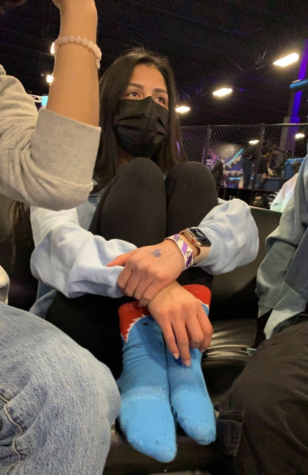 Adilene Garcia-Molina
To be a Bengal means to be a hard worker. Someone who tries hard in all situations to do the best by themselves and others. FVHS junior Adilene Garcia-Molina is the true embodiment of a Bengal, shining through in both athletic and academic success.
Hard work and dedication are some of the words that come to mind when one thinks of Garcia-Molina. This 17-year-old student is an active member of the schools NHS, Rho Kappa, Mu Alpha Theta, Student Ambassadors, HOSA, Science Club, National English Honor Society, Spanish Honor Society, and the track team. Her club involvement is rooted in her love for connecting with others.
"The things that I like a lot about all of the clubs that I am in is that a lot of them pertain to a certain subject, and so when you are in those meetings, you are surrounded by people that share that common interest, and you are able to form a connection with people who have the same passions you do," Garcia-Molina stated.
Connecting with others is something Garcia-Molina loves, which is why she is so passionate about community. Her kind heart loves the idea that the things she's doing could be affecting her community.
"Many of the clubs focus on giving back to the community in unique ways, and so it is always nice knowing that I am positively helping out those who are within my community" she explained.
Friends of Garcia-Molina agree that she is a kind-hearted spirit. Eighteen-year-old senior Abigail Lapp happily speaks out about Garcia-Molina, attesting to her kind spirit, calling her someone who, "Really values her kindness towards others."
Her community involvement and kindness run deep, but they are not Garcia-Molina's only feat. As mentioned before, she is a member of the school's track team. Garcia-Molina runs mid-distance and distance (depending on the season). She has been a loyal member of the team since her freshman year and loves her team members as well as the sport itself.
"The thing that I like most about the track is being able to do an activity that I enjoy with people that I love," she said. "I have been able to meet amazing people and create friendships that I may have otherwise not been able to make" 
Athletics are important to Garcia-Molina, but they are not her first priority. While she loves to run track, she believes that she is better at her academics. Having a practical mindset about things, Garcia-Molina knows that academics will bring her closer to her future goals. 
"Although it would be nice to run track in the future, I think that I am going to stick to my academic studies and focus on pursuing the career of my choice," she explained
Sticking to academic goals is the clear route for Garcia-Molina. She hopes to attend UNC-Chapel as a first-generation student, and she's working hard to get there. Working that hard does come with a price, and the effort Garcia-Molina must put in every day can sometimes become too much. 
"There are some days where I can't help but feel overwhelmed and stressed with all that I have going on in my life," said Garcia-Molina.
The passion perseveres over the pressure, and Garcia-Molina does not let the stress keep her down.
"I never give up, no matter how rough my day is," she explained. "I admire the strength and determination that I have that allows me to get everything done. Being able to balance my homework, extracurriculars, and social life is also a difficult task, but being able to do so on a daily basis allows me to see what I am capable of doing."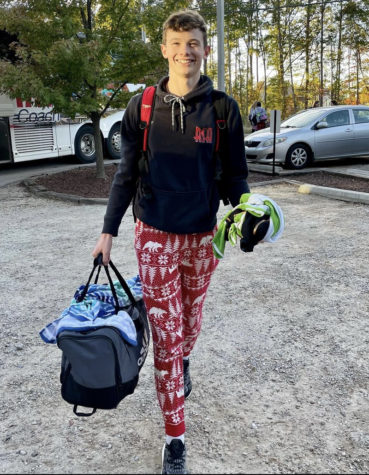 Tate Anderson
As an athlete in high school, senior year can be a very daunting time, four years spent working hard for a team they will soon no longer be a part of. Some are upset that their career will be coming to an all too abrupt end. Others are upset they will be leaving some of their best memories behind. However, for those like 17-year-old FVHS student Tate Anderson, the senior season ending is just a new and exciting beginning. 
Splashing in the water since he was a child and athletically swimming since fourth grade, it's safe to say Anderson has built up some strong skills over the years. This last season alone he made it into the 2022 NCHSAA 4A States, earning 4th place in the 100 backstroke and 5th place in the 200 freestyle. Anderson was also awarded the 2021-2022 Men's Swimmer of the Year award at the Greater Neuse River Conference. "I enjoy the competition" he stated. 
His accomplishments are incredible, and they haven't gone unnoticed. Coaches, teachers, and students alike have recognized his variety of achievements. FVHS senior Jackson Reinert is one of the many willing to give many positive words about Anderson. 
"Tate Anderson is honestly one of the most incredible swimmers I've ever seen," said Reinert.  "He is just a really complete athlete all around, very competitive. Probably just one of the best kids out there, academically and athletically, that I know." 
Anderson's achievements have been recognized by some top-notch coaches, and that has become a feat of its own. The exceptional swimmer has been recognized by multiple D1 schools, specifically George Mason University and North Carolina State University. Anderson's decision process for choosing his school revolves not only around his athletic needs but his academic needs as well. 
"I want a good balance of academics and athletics," he said. " I enjoy a big campus feel and a strong team culture."
Regardless of which school he chooses, the future seems to be full of potential for him. While Anderson seems to be focusing on his upcoming college career and is unsure of what's to come, his friends have big hopes for Anderson's future. "I think honestly in his swim career he has huge potential," said Reinert. "His swim career will honestly take off, from what I believe, and I honestly believe that he could be a future olympian."
How is Anderson feeling about everything? The star athlete is just focused on strengthening his skills. He notes that he wants to just continue practicing, explaining that he is not done improving. And his end goal?
"I just want to continue to get faster in the water," he said.