Queen in the 1970's: a Retrospective
Ever since the third grade, my favorite band was Queen. I've listened to every album by them many times, and almost every song has a special place in my heart. I've decided to undertake the task of giving a short review of every album they made in the decade of the 1970's. Each project will get a bit of background, general sound and quality of the album, a score, and some song recommendations, usually songs that don't get as much recognition as their greatest hits. I may be a bit biased in this review as this article will contain some of my all time favorite albums but I will critique where critique is needed, despite my deep attachment to each of these projects. 
Queen (1973)
Queen's first self-titled album came out on July 13, 1973 and peaked at #32 on the UK album charts. This album takes on a variety of styles. There's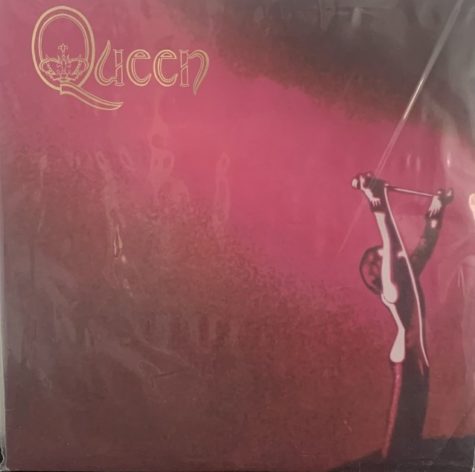 flamboyant yet dark operatic rock in tracks like Great King Rat and My Fairy King, blues rock in the form of Son and Daughter, and fun energetic borderline jams like Liar and Keep Yourself Alive. The album, although varied in its styles, feels dingy in its production and overall feel.
This album also has many biblical references, such as, "Don't believe all you read in the Bible" in Great King Rat, "I have sinned to you father / Father I have sinned" and "I'm gonna kneel down by your side and pray" in Liar, and the entirety of the song Jesus, which is about the life of Jesus Christ. I give this album a 9/10, and songs I'd recommend are Great King Rat, Liar, and The Night Comes Down. 
Queen II (1974)
With a bit more money and a better studio, the band recorded and released Queen II on March 8, 1974, which peaked at #5 on the UK album charts. This is the band's most consistent album (in my opinion), taking on a heavy art rock style with an overarching theme of medieval fantasy. The alb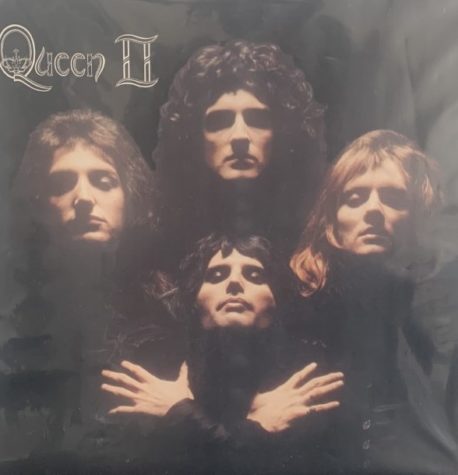 um consists of a side white, with more upbeat and sentimental songs like Father to Son, White Queen, and Some Day One Day; and a contrasting side black with heavier and more complex songs like Ogre Battle, The Fairy Feller's Master Stroke, and The March Of The Black Queen.
As mentioned before, the album takes on a medieval fantasy theme with talks of queens, ogres, fairies, and many more, with the song The Fairy Feller's Master Stroke containing many instances of old school fantasy terminology. This is my favorite Queen album, as well as my all time favorite album. I give this album a 10/10, and songs I recommend are White Queen, Ogre Battle, and The March of the Black Queen. 
Sheer Heart Attack (1974)
Following the release of Queen II, the band went on a US tour, in which guitarist Brian May caught hepatitis. Why do I share this? Because May's absence while recovering led the other members to fill in his songwriting duties, of which he did a good percentage of for the band. The result was Sheer Heart Attack, released on November 8, 1974 and peaking at #2 on the UK album charts. Unlike their second album, Sheer Heart Attack is a m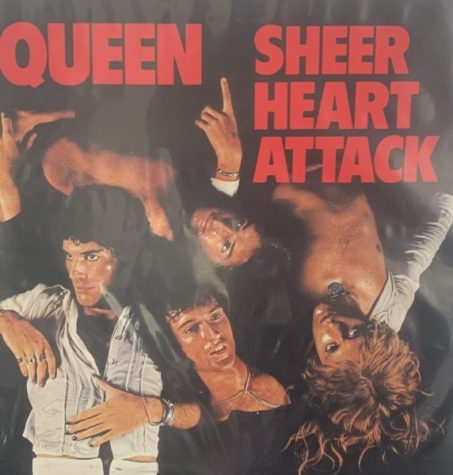 ajor example of Queen featuring many different styles of music into one album, something that will become a theme for many of their following albums. Such styles include hard rock in Brighton Rock, camp pop in Killer Queen, rock ballads in both versions of In the Lap of the Gods, and a (debatable) early predecessor of thrash in Stone Cold Crazy.
This album has a lot to offer with varying success. The highs of this album are in the stratosphere, but the lows consist of songs that come and go and feel like a bit of filler. In the end, this album is pretty good, even taking into consideration the songs that sound like they were included to take up space. I give this album a 8.5/10, and songs I recommend are Brighton Rock, In the Lap of the Gods, and Killer Queen. 
A Night at the Opera (1975)
Queen had two hit singles under their belt, were going on tours internationally, and still had little to show for it. This, combined with the fact that they were near broke while their managers were buying Rolls Royces, led Queen to a change of management and recording environment ahead of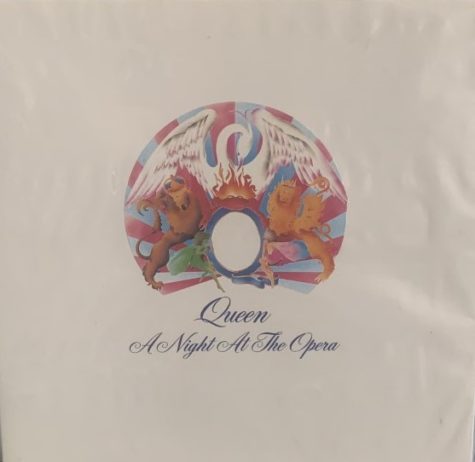 their fourth album, and boy did it pay off. A Night at the Opera was released on November 21, 1975 and peaked at #1 on the UK album charts. This album feels like a more polished and refined version of their previous album in terms of musical variety. From love songs like Love of my Life and You're my Best Friend, the space folk theme of 39', and rock standards like I'm in Love with my Car, The Prophet's Song, and Sweet Lady. The production sounds greatly improved and none of the songs feel awkward or out of place, however jarring it may be to transition from some tracks to others.
Of course, I couldn't mention this album without in the same breath mentioning the biggest song from not only this album but from the band as a whole, Bohemian Rhapsody. This six-minute multi-part operatic epic needs no introduction, and its unlikely popularity shot it and A Night at the Opera as a whole into becoming Queen's most recognizable and successful project. Overall, this album is Queen's variety album style done right and set the precedent for their albums going forward. It's a great listen and the multiple styles make it interesting without making it boring or clashing. I give this album a 9/10 and some songs I'd recommend are Death on Two Legs, You're my Best Friend, and Seaside Rendezvous. 
A Day at the Races (1976)
Following the success of A Night at the Opera, Queen continued the same ideas they had with the follow up, the similarly named A Day at the Races, which was released on December 10, 1976 and peaked at #1 on the UK album charts. This album took what A Night at the Opera had, especially the overly flamboyant parts, and ran with it. A Day at the Races empl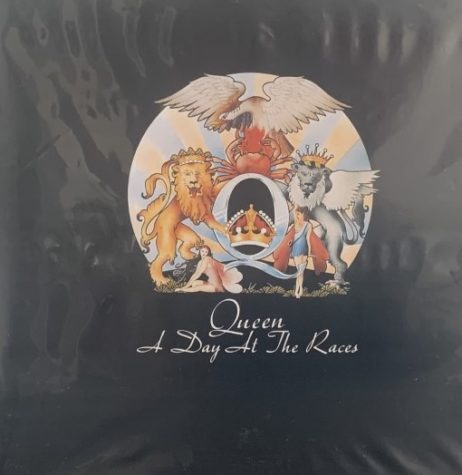 oys some heavier variation within its styles with the hard rock track Tie Your Mother Down, the grandiose waltz of The Millionaire Waltz, the sludgy blues rock track White Man, the gospel-inspired Somebody to Love, and the poppy love songs of You and I and Good Old Fashioned Lover Boy. Although this album continues A Night at the Opera's style, it seems almost drawn back and less radio friendly in how much it experiments with its styles.
This album is a very good and underrated follow up to their smash hit and at times can feel more unique than its predecessor. I give this album a 9/10, and songs I'd recommend are Good Old Fashioned Lover Boy, The Millionaire Waltz, and Somebody to Love. 
Nws of the World (1977)
As Queen got more flamboyant and complex, music as a whole was going the opposite direction. The punk movement was exploding in the UK and progressive rock bands started to strip back their sound. In the ever-changing music landscape, Queen had to adapt to stay in the public eye. News of the World was released on October 28, 1977 and peaked at #4 on the UK album charts. News of the World adopts a harder heavier sound overall than their previous two albums. With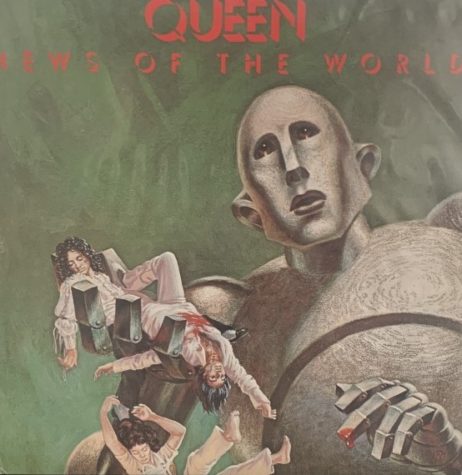 rock standards like We Will Rock You and We Are the Champions, Sheer Heart Attack, Queen's answer to the punk movement, the sludgy rockers of Fight From the Inside and Get Down, Make Love, and the bluesy number of Sleeping on the Sidewalk.
Although this album takes on a heavier sound to coincide with the music of the day, they still included soft songs like My Melancholy Blues, Spread Your Wings, It's Late, and All Dead, All Dead. News of the World presents familiar Queen-style tunes, an overall heavier feel compared to the last few albums, and a less complicated musical approach that does not compromise on quality. Its less varied styles makes the album flow very smoothly from track to track and feels less like a "throwing everything at the wall and seeing what sticks" approach than the last two albums, as good as they are. This is a very well-rounded rock record that still has all the unique qualities that makes a Queen album a Queen album. I rate this album a 9.5/10, and songs I recommend are It's Late, Spread your Wings, and Get Down, Make Love. 
Jazz (1978)
By the time they were ready to record a new album, Queen's members had started to grow apart after half a decade of constant touring and recording had taken a toll on its members. They wrapped up the 1970's with their album Jazz (which contains no actual jazz), which released on November 10, 1978 and peaked at #2 on the UK album charts. Jazz follows the lead of News of the World with its more rock-centered, less complex production and combines it with the evolving sound of what would become the 1980's. Jazz features classic rock tracks like Fat Bo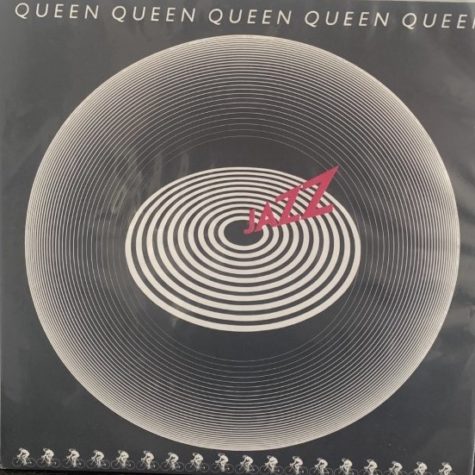 ttomed Girls, Let Me Entertain You, Dead on Time, and More of that Jazz. Jazz also features more pop rock style songs like Don't Stop Me Now, In Only Seven Days, and If You Can't Beat Them.
This album also features the song Fun It, a disco-inspired track which would be the first of Queen's experimentation with disco, something that, for better or for worse, would be a driving force in their next few albums. Overall, this album feels like a dip in quality from the last one. It goes for the more accessible popular rock sound but does it worse than its predecessor in my opinion. This album has amazing songs but pales in comparison to News of the World, which has only one song, if any, that I wouldn't consider at least pretty good. With less memorable songs like Mustapha and Fun It, Jazz just feels like a slightly lesser version of its predecessor, but in no way does that mean it's a terrible album. I give this album a 8/10, and songs I'd recommend are Jealousy, Leaving Home Ain't Easy, and Fat Bottomed Girls. 
From their first to seventh album, we've gone over every album Queen released in the 1970's. All these albums are near and dear to me, so again, I may be biased in reviewing them. But Queen has so many hidden gems in their discography apart from their greatest hits that I feel anyone could find a handful of songs they'd enjoy.