Does the Eternals live up to the comics?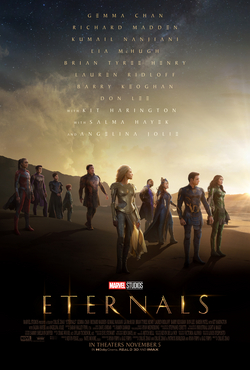 Floating through space, watching the earth form, The Eternals mission has always been to keep the earth safe. The Eternals was released in theaters on Nov. 5, 2021, and boy was it good. This marvel movie made 164.9million in the box office as of Feb.1 of this year. 
Has this movie lived up to the comics made before? Does it do better than its comic that fans love so much? 
The Eternals is a movie about a group of immortals with powers who have lived on earth in secret and have to come out of hiding to defeat a group of deviants. 
The positive outruns the negative in this movie. So let's start with the positive. The cast of this movie is wonderful. You have Salma Hayak, Angelina Jolie and many other great actors. There's the first deaf superhero who is played by Lauren Ridloff. This is extraordinary for the Marvel universe because they have never had a deaf superhero. Having this representation for the deaf community has caused people to be more considerate. This movie shows us what it is like being deaf. 
The cinematography in this movie is wonderful. The cinematographer is Ben Davis who has worked on Guardians of the Galaxy and Captain Marvel. All the scenes in this movie are beautiful whether it is Thena or the scene on the beach. The angles and sun in these scenes are beautiful. My favorite scene is when they are in the dark gloomy wood. Thena's powers start to activate, and you see this gorgeous gold shadow appear in front of her face as she pulls out her spear and starts attacking everyone. 
Parts of the plot are wonderful while other parts are slow and unnecessary. Let's start off with the positive. The relationship between Gilgamesh and Thena is one of my favorite relationships. The way that Gilgamesh helps Thena through her struggles, the jokes they make, and how they take care of each other is adorable to me.
The relationship between Druig and Makkari is just so beautiful in this movie. A cool loner and a deaf speedster in a relationship. Druig gets softer and nicer to everyone when he is around Makkari. The love in this relationship shows me what love looks like. 
Part of the plot is just wonderful. Any scene with Thena in my opinion makes this movie just better. All the fighting scenes in this movie make it better, and the CGI in this movie is wonderful and the monster moves so fluently. 
But there are so many bad parts in this movie that I think fundamentally make no sense. Firstly, the relationship between Ikaris and Sersei. The man fighting for your spot as leader, and you still love. These two are so toxic for each other; they both have different ideas about why they are on Earth and argue at every disagreement. I feel like the chemistry between Gemma Chan and Richard Madden isn't there. While watching the movie, this relationship made me cringe with fear. 
Let's talk about the bad parts of the plot. There are so many unnecessary scenes that could have been cut. The scenes with the deviants could have been cut because they weren't that big of a part in the movie. It was also unnecessary to have all these scenes about Sersei and Ikaris relationship before the Eternals branched out and lived their own lives. This was a dud because they didn't even end up with each other in the end. The other problem with this movie is that Marvel usually has a timeline that each movie fits into. This movie just randomly came into the marvel cinematic universe. There is no connection to  the movies that came out before this movie. 
To be honest, when I saw this movie, it was wonderful, but seeing this movie at home, let me see all the negative things. In my opinion this movie is in my top 5 Marvel movies and should have a better Rotten Tomatoes review. 
5/5 rating