Wingin'it Review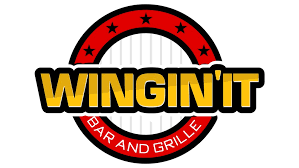 When thinking of local restaurants in Fuquay-Varina, N.C., there's arguably not one that's more popular than Wingin'it Bar and Grille. Located off of North Main St. in Fuquay, Wingin'it is often one of the busiest restaurants in the area. 
Some of the things that Wingin'it is most known for are the friendly staff/service, amazing food, and the overall atmosphere.
At restaurants, something that could possibly leave a bad impression on you after visiting for the first time is an unfriendly staff or poor service. Neither of these apply to Wingin It. The staff always makes sure you have what you need while dining and are very polite in the process. Also for how busy Wingin It is most of the time, the food tends to come out in a timely manner, so you aren't stuck waiting.
Arguably the part of Wingin'it that stands out the most to the average customer would be the food and more specifically the chicken wings. With 21 wing sauces to choose from, any wing lover's taste should be satisfied. The hottest sauces on the menu include, Volcanic Buffalo and Kickin' Chicken. If you aren't looking for wings, there are plenty of other delicious options to choose from. The cheeseburgers and chicken quesadillas are two premier options to consider when searching through the dinner menu, but if you are just looking for something to munch on, I would strongly recommend the bacon cheddar fries or the pretzel bites. 
With great service and tasty food, the thing that puts it all together at Wingin'it is the lively atmosphere. Weekend nights tend to be the busiest, but on Tuesday and Thursday there is great entertainment with music bingo and trivia night. Arguably the best time to be at Wingin'it is when a local sports team is playing because the majority of people will be very vocal in cheering their teams on.
The few complaints about Wingin'It wouldn't be considered massive in the grand scheme of things. The food can be fairly expensive if you order a large meal, but that isn't an uncommon thing with many restaurants in the area and the portion size plus the taste of the food makes it well worth the price. With how popular Wingin'it has become locally, there are certain parts of the day where you may encounter a wait when looking to eat. While a little inconvenient, I personally have not experienced a wait time to  be seated more than 20-25 minutes.
Wingin'it is a top tier restaurant, and I would totally recommend it to anyone who hasn't been yet.  
I rate Wingin'it 9.5/10