The rise of the new choral mascot
The FVHS chorus received a new mascot this year, and with the creature appearing in more and more places, it's about time for a proper introduction. Bengals, give a warm welcome to the new choir mascot, Gungy.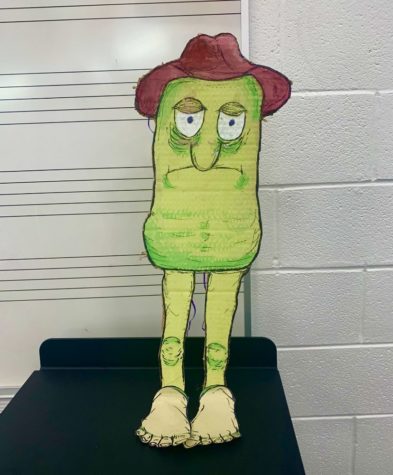 Gungy was introduced to the third period Chamber Choir in the middle of February, and his story has only progressed from there. The creature started as a simple smiley-face drawing on FVHS chorus teacher Tyler Cole's whiteboard. FVHS senior Anslee Gozy saw this smiley face and was immediately inspired. 
"I consider myself to be a creative soul," Gozy stated. "When I get an inspiration, it kind of just strikes, and I have to put it on paper or, in this case, white board. I had seen a smiley face drawn on the board, and I was like 'This is boring.' So I added some sunken-in eyes and a distressed, gross, blobfish-like face, and Gungy was born."
The face of the mascot was presented first, but it was soon evident that this creature needed a body- a true form. In an attempt to make him as disturbing as possible, Gozy added a potato-shaped body figure, a cowboy hat, and some long legs with detailed knees and feet. The creature was truly grotesque in nature, but the choir soon felt a strong connection to him. It was once again decided that he was incomplete, and so he needed a name. 
The name was heavily brainstormed, but the final product came naturally from a typo the choir teacher had made. Cole had been teaching a lesson on 90's rock and was in the grunge category, but instead of spelling grungy he typed out gungy. The name was just grotesque enough to match the disturbing presence of the creature created days before, and so he was named Gungy. 
While Gungy's character and presence were completed, he felt like a stronger presence than a simple drawing on the board. Once again, Gozy decided to take Gungy just one step further. 
"We needed something permanent," Gozy stated. "Whiteboards don't always stay, but a cardboard cut out is pretty hard to displace."
So on Feb. 23, 2022, the choir class was greeted by a two-foot tall cardboard cutout of their new mascot. Cole recalls the morning on his Twitter account stating that, "A student said they needed to talk to me in the hallway about something. It was a ruse. I returned to find [a] full color, free-standing representation of Gungy on my desk."
Gungy was completed, and the Chamber Choir was proud of the new creation, and to this day, they continue to be. "Gungy is an icon, truly," stated Chamber Choir member Erin Prins. "It started off unconventionally, but the more that he has been in our choir class, it's a symbol for a larger thing." 
While Gungy started as an inside joke between the Chamber Choir and the choir director, his energy soon affected the other chorus classes.
"I love Gungy so much, he's truly disturbing, which kind of fits choir well. Very well actually," FVHS student Allyce Key stated. 
Her statement was supported by FVHS senior Trinity Owens, explaining that, "Gungy is amazing, you know? He's just become a part of the family and choir just isn't the same since we've had Gungy. It's like 10 times better. Everybody's into it; Gungy's great."
In no time at all, Gungy became part of the FVHS choir family. He was introduced to the rest of the school when he was posted on the fvhs.cursed.images Instagram page on Feb. 24. That was the first time Gungy was spotted by the public, however, it was not the last. Since his arrival, Gungy has accompanied the FVHS choir on stage during their concerts and plans to continue to do so. If any students are interested in meeting this loveable monster, be sure to come out to the FVHS chorus' end of year concert on May 26, 2022. 
P.S. It's pronounced Gungy (Gun-gey), not Gungy (Gun-jee).