Golf Team Eyes Strong Finish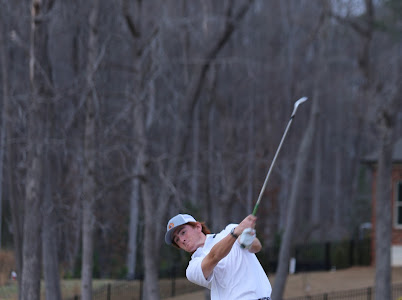 When you think of spring sports teams at Fuquay Varina High school, you're probably thinking about baseball, soccer, lacrosse, and track. One that you may not be super familiar with is the golf team. 
The members of the team this season include juniors Colin Bidwell, Daniel Boone, Luke Duracinsky, Rhys Patterson, and Max Wredberg and seniors Cade Kelly and Tyler Strickland. 
The Bengals joined the Greater Neuse River conference this season after spending many years in the SWAC. The Greater Neuse River conference includes schools such as Willow Springs, Corinth Holders, Cleveland, Garner, South Garner, Clayton, and Southeast Raleigh. 
The head coach of the team, Daniel Boone, Sr., has made his goals very clear for the season. "If this team performs up to their capabilities, I know we can win the conference championship," exclaimed Boone, Sr.
For each match, each school selects five players to compete in either a 9 hole or 18 hole match. After competing, each school will take the best four scores from the match to be added together. The school with the lowest number of shots at the end wins that match. 
The lowest round of the season so far came from junior Daniel Boone at Riverwood Golf Club, where he fired a one under par 35, for nine holes. That was good enough to take home low medalist and lead the Bengals to victory in that match.
The Bengals have started the season off on the right foot after winning their first four conference matches. They currently lead the Greater Neuse River conference by a fairly large margin and don't have any plans of slowing down. 
Junior Colin Bidwell has been a large contributor to the team this season. "We just need to lock in and grasp the conference championship with our mighty Bengal paws," said Bidwell.
The Bengals got a taste of what it was like to compete against some of the best teams in the state during an 18 hole outside match that took place on March 25, at Keith Hills Golf Course. Fuquay finished in 15th place out of 20 teams. The team knows that if they have plans on advancing past the regional tournament and making it to States, it will take a massive effort from everyone.
Boone, the best average scorer on the team, believes that the team has a shot. "We definitely have a solid team with an unbelievable amount of potential, but the Keith Hills event was definitely a wake up call for us in where it shows where we need to be in having a possible look at going to States," said Boone. "We need to make every shot count and give it our best in order to have a real look at the ultimate goal."