Lady Bengals finish exciting season
The Lady Bengals Varsity Basketball team finished up an exciting season with lots of thrilling runs. Their final game of the season was especially hype, winning against Cleveland 45-42, backed by a supportive student section.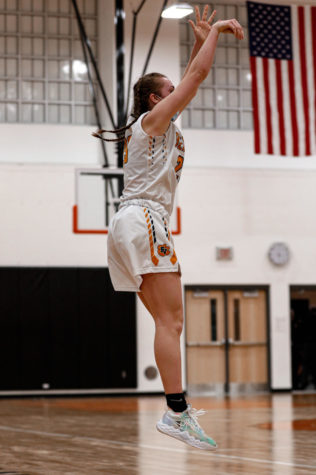 The team was composed of 12 juniors/seniors, one sophomore, and one freshman. They were coached by Gail Siemer, who was assisted by Brian Harrington. 
The Lady Bengals' first win was against South Garner, their first conference game. The team crushed the Titans 51-29. The second time the team played the Titans, they won again 51-30. The Lady Bengals' did exceptionally well in the Holiday Tournament and advanced all the way to the final round against Rocky Mount. 
Taryn Wheaton, a senior, was one of the Bengals leading ladies. Wheaton carried the team in points (12.3 PPG), as well as rebounds (6.8 RPG). 
Emily Driver, also a senior, was an important team leader as well. Driver dominated in steals and assists. "Emily is always positive and wants to do well. She certainly deserved the All-Conference Sportsmanship Award." Coach Siemer said.
The girls grew close over the season, said Coach Harrington. "We love the girls," he said. "They're just like daughters to us. There was no better season to coach than this one." 
Coach Siemer recapped the season as one of great improvement. "We had a tough season, played hard, and got better," she said. She looks forward to next season.