Baseball swings into season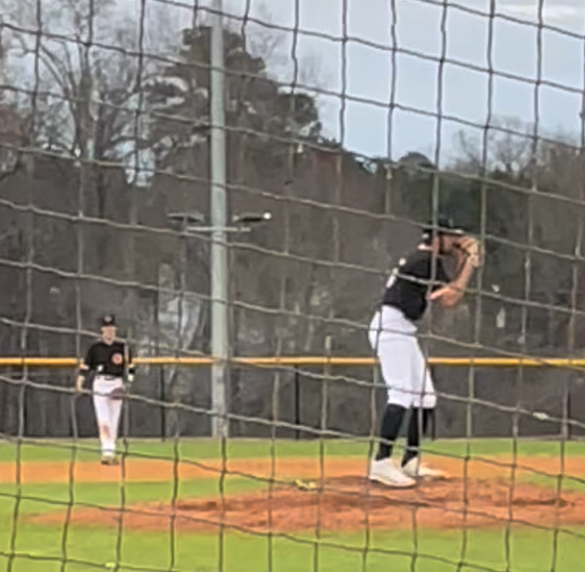 The 2022 regular season opens up on March 1 for the Bengals against rival Holly Springs. The Bengals will undoubtedly have high expectations this season after winning the 4A state championship last year.
"I have high expectations for the season. We are looking to win the conference and make a deep run in the playoffs," said Fuquay junior Brady Nathison. "We are looking to have a repeat season like last year," added Fuquay Junior Drew Landmark.
The Bengals started the season with scrimmages against Western Harnett and Broughton High Schools, earning wins in both of those contests. Against Western Harnett, Fuquay Senior Connor Paullin led the way on the mound with three innings pitched, seven strikeouts, and no earned runs. The offense was dominant, putting up 25 runs in a massive victory. The second game against Broughton was a bit closer but still resulted in a comfortable Bengals win of 12-6. Campbell commit, Jackson Humphries dominated on the mound. The senior also went three innings and gave up no runs with 7 strikeouts.
The big wins in the scrimmages to start the year will hopefully be an indicator of what will follow for this season.
One difference this season is that the Bengals have entered the Greater Neuse River Conference compared to the previous years of being in the South Wake Conference. The Bengals finished at the top of the conference last season and will look to do the same this year in the Greater Neuse River.
Another change for this season compared to the prior seasons is that they will be without former head coach Zach Boraski, who has two state championships under his name. Although it'll be a big change with no Boraski this season, many other people believe new head coach Andrew McClannon is doing a solid job thus far.
"Coach has done a good job taking over the team and starting off the season strong," explained Nathison.
The Bengals will finally be back playing at Fuquay High this season for the first time since 2019. They ended up playing at what is now Willow Springs High for a couple of years because of the renovations going on at Fuquay.
¨They are still working on the field but it should be ready in time for our first home game,¨ explained junior at Fuquay High, Matthew Keller. The first home game is on Mar 3, 2022 against Holly Springs.
"It's great to be back with all the history that Fuquay has had and we are going to carry on the legacy of Fuquay baseball," said Nathison.